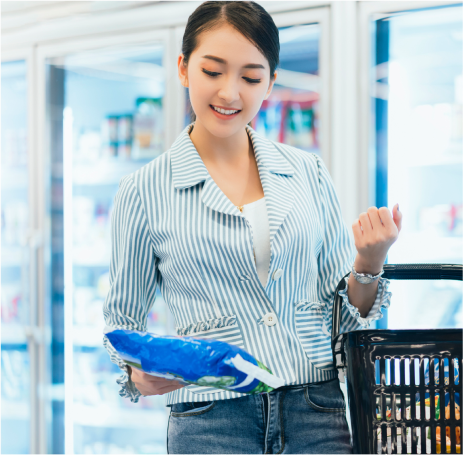 Supermarkets and other grocers in Asia are tapping shoppers' growing taste for humanely sourced meat and eggs, and plant-based proteins
1. Asia's increasingly affluent, urbanised population increasingly demands protein that is not only healthier, but also more environmentally sustainable and ethically farmed.
2. Producers have responded to evolving consumer tastes by marketing more responsible products, but still have plenty of room for improvement.
3. Some of Thailand's leading supermarket chains are demonstrating how food retailers can use their intermediary position to raise consumer awareness and improve product quality.
Supermarkets and other food retailers in Thailand are joining a shift in Asia toward offering meat and plant-based alternatives that cater to rising consumer demand for healthier, more sustainable, and more humanely produced sources of protein, according to the latest findings by Asia Research & Engagement.
At least three of Thailand's five leading supermarket chains have started selling more humanely produced proteins and plant-based alternatives, according to research ARE conducted late last year. This shift reflects a nascent trend across Asia, where food retailers are joining suppliers in responding to rising consumer demand for such products.
This shift is an important step in Asia's gradual transition towards more responsibly produced animal proteins and alternatives. Retailers play a vital role in shaping the market for any new product. And in Asia, increasingly sophisticated consumers want products that minimise mistreatment of animals, reduce the overuse of antimicrobial drugs and do less harm to the environment by lowering greenhouse gas emissions while using less land and water.
Demand for more responsible protein from consumers, civil society and investors is driving the shift by producers and now retailers.
Investors have started making similar demands. ARE has therefore used its findings from Thailand to construct a scorecard (below) that compares retail food companies' offerings, focusing on the availability, pricing, placement, and labelling of responsible protein products. ARE aims to assess other retail hubs, generating scorecards around the region to expand on our report last May, "Responsible protein sourcing in Asia—baseline benchmark." This work also supplements our "2030 Asia Protein Transition Platform Vision and Goals," published last December together with leading investors representing $3 trillion to help companies navigate this shift. The platform includes a list of expected disclosures and a self-assessment questionnaire retailers can use to benchmark their progress. ARE stands ready to support any retailers seeking guidance on making the transition.
ARE's 2018 report "Charting Asia's Protein Journey" projected that population growth, urbanisation and rising incomes would by 2050 increase Asia's consumption of meat and seafood by almost 80%. Meeting that soaring demand with conventional industrial farming would exact a correspondingly huge toll on the environment and on animal welfare.
But the same trends driving Asia's consumption of protein have also given rise to increasing awareness and concern about health and the environment. While Asian consumers once focused almost exclusively on price and taste, increasingly conscious consumers are demanding such products as cage-free eggs, higher welfare pork, and plant-based proteins.
More than half of the additional $4.4 trillion of food purchases Asians will make between 2019 and 2030 will be determined by this evolving consumer preference for safer, more sustainable and healthier food, according to a 2021 report by PwC, Rabobank and Temasek. That report, which surveyed 3,600 consumers in 12 markets across Australasia, found a broad shift underway among consumers away from meat, with almost half of respondents in China and a quarter in Southeast Asia saying they were eating less meat than three years ago.
Thailand's greatest strides toward meeting this shifting demand have so far been made on its supply side, where most of the impact on animals and the environment naturally occurs. Some producers and manufacturers have expanded and improved the range and availability of responsible products they offer. To differentiate higher welfare products in the market, industry groups have partnered with regulators to introduce cage-free guidelines in Thailand. ARE also encourages  independent certification schemes like those now available in Asia by certification organisation "Certified Humane" .
Asia's supermarket operators and other food retailers have been much slower to participate. Of the 158 listed Asian protein buyers we examined for our baseline benchmark report last May, 72% had adopted some form of sustainability reporting, most related to the impact of their own operations—including food safety, waste, water use, and labour conditions. Roughly 16% had adopted sourcing policies that included mention of animal proteins. Some 13% of companies had acknowledged antibiotic overuse as a risk to their business, while 11% had acknowledged animal welfare as a supply-chain risk.
Already working to reduce their own footprint, Asia's food retailers now need to focus on the impact of the products they sell.
These policies remain well behind those prevalent among their multinational counterparts, particularly in setting cage-free egg commitments. Asia's buyers can catch up, setting the direction and assure suppliers of reliable contracts for cage-free eggs and plant-based products, reducing costs also with scale.
The situation in Thailand is broadly representative. Almost 70% of Thai respondents in PwC's survey said they were likely to pay more for healthier foods. Thailand's market for plant-based meat substitutes grew 52%—to $32.8 million—in the five years to 2020, according to London-based analytics company GlobalData. GlobalData projected that market would grow another 55% by 2025.
In 2021, Thailand's Department of Livestock Development introduced official standards for cage-free eggs in response to interest from local egg producers encountering rising consumer demand. Thailand's standards still fall below what's needed to earn a "Certified Humane" logo. But, combined with civil society campaigns, they have encouraged some Thai supermarkets to raise their own bar. Lotus, for example, currently offers home brand cage-free eggs and has pledged to sell only cage-free eggs at its more than 2,000 stores around Thailand by 2028. ARE encourages annual progress reporting on this commitment.
The scorecard below details some of the progress Thailand's biggest food retail chains have made:
 
 

CAGE-FREE EGSS

Big C

Lotus

Gourmet Market

MaxValu

Tops Market

Availability
1.01
Is the product offered?

✕

✓

✓

✕

✓

1.02
Are there multiple options available?

✕

✓ 

✕

✕

✓

1.03
Does the supermarket offer the product under its home brand?

✕

✓

✕

✕

✕

Pricing
2.01
Is there price parity?

✕

✕

✕

✕

✕

2.02
Is the price disparity less than 20%?

✕

✓

✕

✕

✓

Placement
3.01
Is there in-store marketing in favour of the product?

✕

✓

✕

✕

✕

Labelling
4.01
Are cage-free / higher-welfare claims supported with independent certification?

✕

✕

✕

✕

✓
 
 

PLANT-BASED MEAT

Big C

Lotus

Gourmet Market

MaxValu

Tops Market

Availability
1.01
Is the product offered?

✓

✓

✓

✕

✓

1.02
Are there multiple options available?

✓

✓

✕

✕

✓

1.03
Does the supermarket offer the product under its home brand?

✕

✕

✕

✕

✕

Pricing
2.01
Is there price parity?

✕

✕

✕

✕

✕

2.02
Is the price disparity less than 20%?

✕

✕

✕

✕

✕

Placement
3.01
Is there in-store marketing in favour of the product?

✕

✓

✕

✕

✓

3.02
Is the product placed beside its animal protein counterpart?

✕

✓

✕

✕

✕
It's noteworthy that cage-free eggs cost little more in Thailand, though plant-based meats are priced more than 20% higher than equivalent meat. While Thai consumers in PwC's survey indicated a willingness to pay more for healthier foods, retailers typically cite these products' higher price tag for their reluctance to promote them in their stores. The Thai scorecard and other data cited above suggest urban consumers are willing to bear the additional cost—giving retailers even greater incentive to promote the products to their customers. Unfortunately, retailers that don't market responsible products have no way to gauge their appeal.
The Vital Role of Retailers
Food retailers are an important intermediary between producers and consumers. Putting a product on shelves is a first step, but they can and do stimulate consumer demand by offering promotions, placing products in prominent locations inside the store, and providing feedback to producers on consumer behaviour that can be used to improve products.
Research suggests, for example, that sales of plant-based meat improve when they are placed next to animal meat. U.S. consumer intelligence company NielsenIQ found in 2019 that 98% of consumers who purchase plant-based meat also purchase animal meat. And U.S.-based FMI, The Food Industry Association determined the same year that integrated shelving may also be more popular with consumers who prefer to shop for plant-based meat in the same grocery section they buy animal meat. Placing plant-based proteins next to animal proteins also improves the likelihood they'll be discovered by shoppers curious to try them.
In addition, large retailers have the purchasing power to demand minimum supply volumes and promotional discounts. They generate sufficient consumer sales, moreover, to help producers create more compelling and transparent labelling about their products' responsibility and adherence to sustainability standards. Doing so would raise their appeal among younger consumers and help reduce their own sustainability risks.
Food retailers in Thailand and elsewhere in Asia are taking important steps, but a long road lies ahead in realising their full potential for achieving Asia's protein transition. For those eager to make that journey more smoothly, ARE is ready to help.
We are grateful to partners around the region who have assisted or are assisting us in collecting data for our research. For this assessment of supermarket chains in Bangkok, we were fortunate to have received the kind support of World Animal Protection, which provided invaluable contextual knowledge of the market.