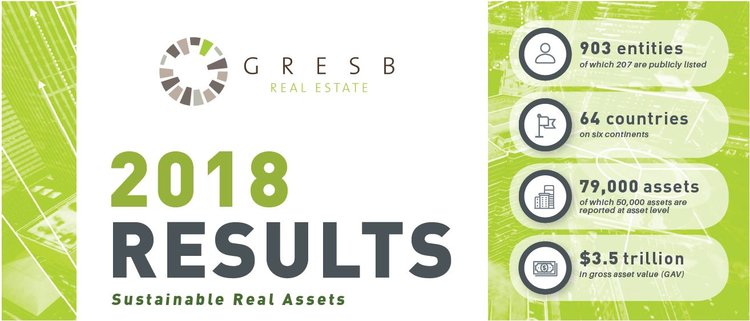 For 2018, 903 property companies, real estate investment trusts (REITs), funds, and developers participated in the Real Estate Assessment, an increase of 6% on the previous year.
The Assessment now covers more than 79,000 assets (of which more than 49,000 reported at the asset level) across 64 countries and represents over USD 3.6 trillion in gross asset value.
The GRESB Infrastructure and Debt 2018 results are also available.
To read more on the results:
GRESB assesses the sustainability performance of real estate and infrastructure portfolios and assets worldwide. We offer ESG data, Scorecards, Benchmark Reports and portfolio analysis tools.
The Assessments are guided by what investors and the industry consider to be material issues in the sustainability performance of real asset investments and are aligned with international reporting frameworks such as GRI and PRI.
Assessment participants receive comparative business intelligence on where they stand against their peers, a roadmap with the actions they can take to improve their ESG performance and a communication platform to engage with investors.
Investors use the ESG data and GRESB's analytical tools to improve the sustainability performance of their investment portfolios, engage with managers and prepare for increasingly rigorous ESG obligations.
ARE represents GRESB in Asia (ex-Japan).